In our blog 'Encouraging innovation within your employee base' we discussed how to encourage ideation despite uncertainty around the idea, and briefly touched on how to overcome the over-confidence that comes when people evaluate their own suggestions. It was suggested to bring a greater number of reviewers into the review process so that you can get the average consensus and undermine any possible self-bias. In this blog, we aim to share the best practice when evaluating ideas overall.
Converse with participants
As discussed previously, increasing the number of people involved in the evaluation process helps undermine self-bias, however, a greater pool of innovators can also be useful prior to evaluation. Involving more people and having a platform that enables conversation can ensure that ideas are successfully developed prior to evaluation and review. With a larger pool of innovators, you will have a wider array of perspectives. Thus, conversation creates development through the act of cross examination and encourages the contributor to alter their suggestion based on new insight. The suggestion then becomes a product of collaboration rather than an individual.
With this in mind, your organization must ensure that it's innovation process can support such a high degree of collaboration. Utilizing a tool such as edison365ideas integrates with Teams and Yammer, enables your organization to leverage their existing collaboration tools, allowing them to develop ideas without the need for extra training and further software adoption.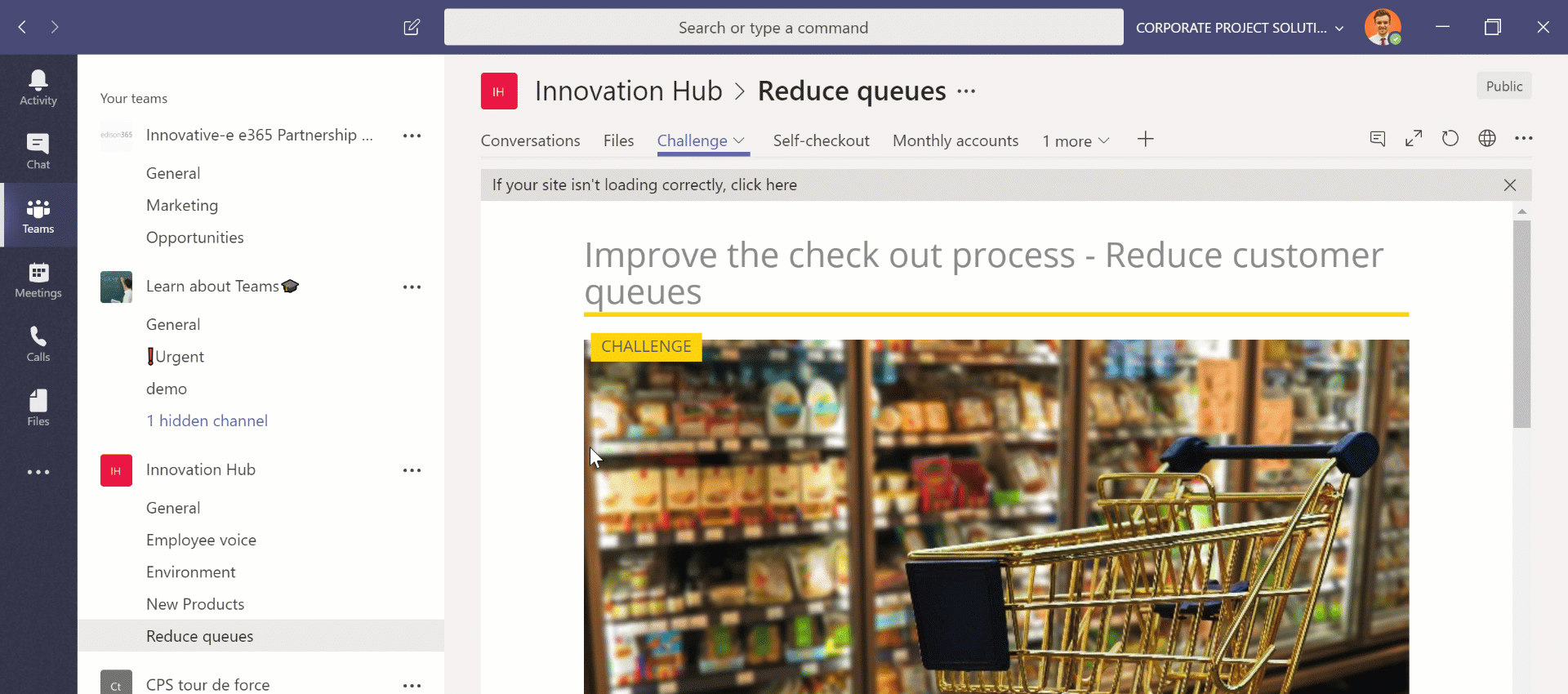 Set key points of interest to evaluate ideas against
When bringing a large number of people into the innovation process to review and evaluate the ideas, consistency and transparency are key. A large number of people may really like the novelty of a certain idea and push for its implementation, but it is devoid of any practicality in terms of the organization's strategic goals. However, if this popular idea were to be rejected, people would become disheartened and see the process as unfair. This is why transparency and consistency regarding the communication of your strategy is important for evaluation. Explain the outcomes you wish to achieve from your innovation process and ensure they're effectively and regularly communicated, continually reminding innovators during the evaluation stage.
If an individual is aware of these drivers for innovation, they will less likely champion their own idea with self-bias if it does not meet the requirements. edison365ideas understands this and enables organizations to set KPIs to use during the evaluation stage of ideation, this is known as the ideas triage and it ensures that evaluation is aligned to the strategic priorities of the organizations. Reviewers can evaluate ideas against these configurable factors and an average is produce identifying the most viable solutions for organizations. The average score across all those involved in the evaluation process easily reduces the impact of any self-bias that may have been demonstrated during triage. Depending on the volume of ideas and build of your innovation process, you can evaluate individual ideas, or make a comparison with others when using the triage function.
Think of delivery – Justify why this is a good idea
Finally, when evaluating innovations, there's needs to be communication with the teams who will be delivering it. There are other factors past initial costs and impact, such as timescales and scope of the delivery team. Justification is needed before projects teams can implement the idea, which is where a business case can support your organization.
edison365businesscase can provide insight into the possible delivery of your suggested idea. It enables innovation and ideas from employees to be effectively evaluated before project implementation. edison365businesscase is uniquely designed to deliver that objective with a transparent view of your business case processes and every type of case. It tackles process consistency, so the business cases you see across the ecosystem can be meaningfully compared. And it provides your organization-wide visibility via a compelling interface, efficiently presenting massive amounts of information.
Evaluating ideas is a necessity for successful innovation, barriers such as siloed ways of working can promote self-bias when asking individuals to review their own contributions, however, tools like edison365 can support your organization to effectively manage evaluation and turn suggestions into viable solutions.