It is a well-known fact that innovation often happens in moments of crisis or significant market changes. Now is one of those times. The problem is, at this very moment when we should be closely collaborating with our peers to address the challenges faced by many (dare I say all) businesses, we are now encouraged (if not forced) to work remotely. How can we meet our existing business goals and still deal with new threats and opportunities? This is where innovation software tools come in.
Why do you need innovation software tools?
Leading organizations already have a telecommuting policy in place. For these organizations, this new "work from home" and innovation imperative can be met quickly and (relatively) painlessly. They already utilize collaboration platforms (such as Microsoft Teams) and communication tools like Skype, Zoom, WebEx, etc.) to host remote calls and meetings. Indeed, these tools are changing our world daily. At edison365, we work with global enterprises every single day. It is not uncommon for me to start the morning on calls with manufacturing engineers in Denmark, product managers in New York, and the Director or Chief Innovation Officer in San Francisco. All while my team is in Seattle or London. With help from that early morning coffee, we can all have productive calls and sessions using these excellent collaboration tools.
What they don't do well though, is give us a business-focused platform and process for applying the creativity and rigor needed to advance innovations in structured ways. I know what you're thinking "I want my innovations to be driven by free-form Post-it note design thinking sessions or lean innovation models". Yes, we get that too, which is why we support it. But ask yourself this, where do you put all those post-it notes when you are done? What do you do with them after the event? How do you take action once this great brainstorming session is complete? And most relevant today, how do we execute with a distributed workforce? There is a better way – especially when you must work remotely.
This is where innovation software tools come into play because platforms like edison365 provide:
#1 Ability to collect, access, collaborate, and act on organizational challenges, key ideas, and innovations in-flight
Whether you are working remotely for a short period of time, or your team is spread across the globe, you need a place to store, discuss, evaluate and act on all the great ideas and opportunities that come your way. That is true whether you are disrupting traditional business models, creating new products or services, iterating on existing ones, or finding important ways to be more efficient or cost-effective. Think Horizon 1,2 & 3 (H1, H2, H3) or similar type planning. Not to mention having a way to capture crowdsourced ideas from your employees to help keep them happy and motivated.
---
Oh, and what about collecting these same innovations and ideas from your customers, important business partners, or industry collaborators? Yes, Open Innovation can be a real game-changer. Chances are you have something in place to collect customer feedback, but how repeatable is the process? Does it support long-range thinking or just near-term product enhancements? How well do these opportunities integrate into your existing innovation or product pipeline?
---
---
In fact, rapid portals can be deployed immediately to make progress on real-time challenges.
---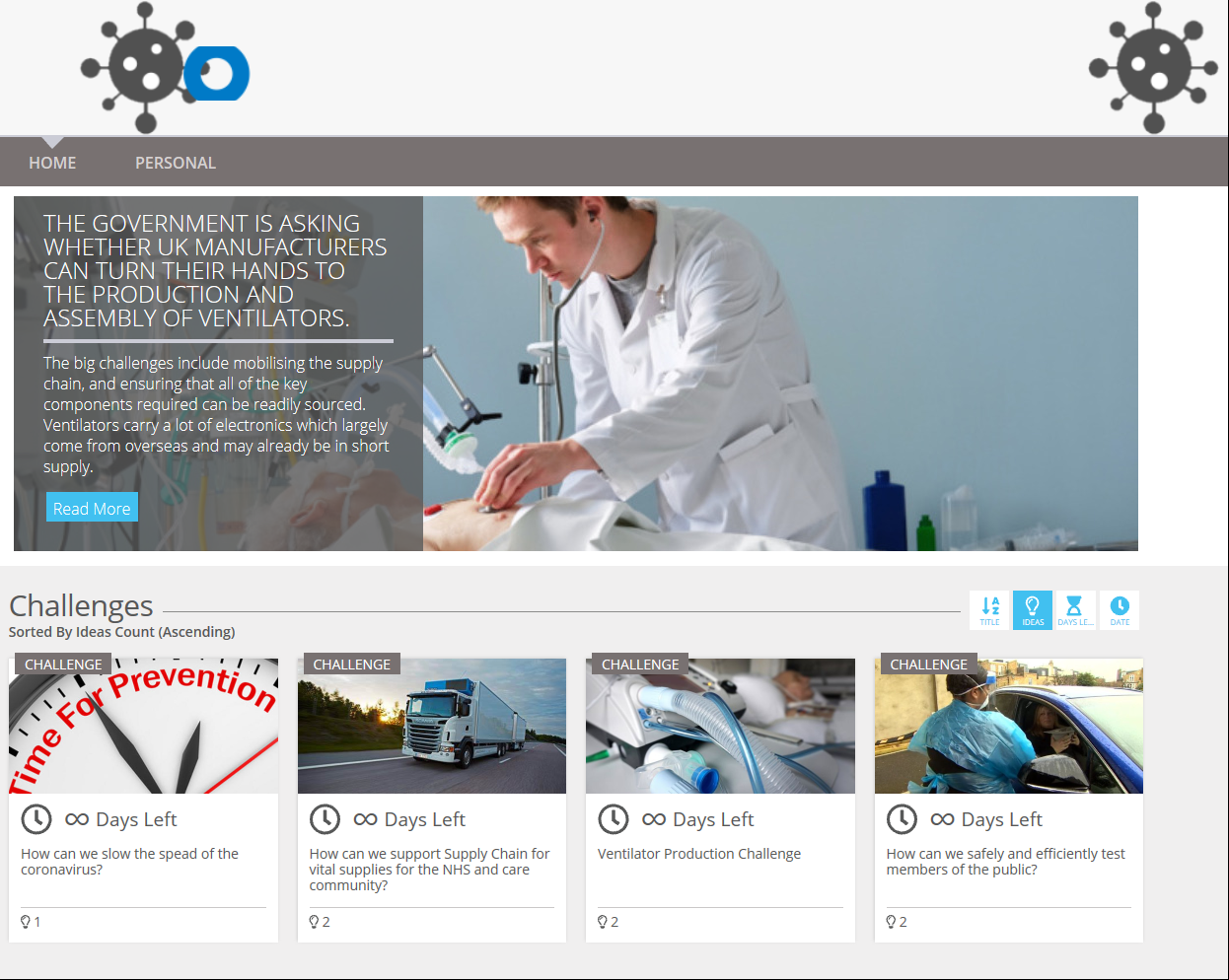 #2 Visibility around personal and team responsibility. Who's got the ball?
At the end of the day, most advances come down to individuals and teams getting work done. So how do your Post-it notes tell you what is next? How does your spreadsheet list remind you and others "who's got the ball"?
Enterprise software is expert at helping you through this problem. Whether you prefer automatic email notifications or in-app prompts, etc., software is great at irritating you this way. A more friendly and indeed natural way of addressing this can be through targeted landing pages. For example, here is My Personal page showing exactly what business challenges, ideas, and actions I am engaged in.
---
#3 Interactive innovation software tools that help you evaluate and advance ideas and opportunities – even when you can't meet in the same room
Now you can hold leadership meetings virtually (Microsoft Teams, Skype, similar) and across time zones while still holding individuals and teams accountable. Smart tools allow you to rank and score ideas separately and then come together for interactive triage sessions where group decisions can be facilitated. Enterprise tools help you support and encourage diversity of thinking through easy access (democratizing your process) and employee engagement. Letting others share their voice through star ratings, voting, and comment periods, and then letting the management team "do their thing" lets everyone participate. Of course, this can be more controlled as necessary to support your culture or practices.
---
See what you need to do and then evaluate each idea individually.
---
---
---
---
Once things have made the first pass, evaluate them against each other so you and the leadership team can approve and take action.
---

---
#4 Ways to find and incent your innovators – especially while working remotely
In the perfect world, you get to have all your innovators in one place. Is that done through a lab? An innovation hub? A think tank? What do you call it in your company? Well in the real world, it is a virtual collection of collaborators with diverse backgrounds working in many different locations in many different roles. How do you find them? How do you encourage and reward their participation? Since getting a prime parking spot is less incentive these days, how can you reward individuals and teams? Why not use modern gamification theory and techniques? Awards, badges, and indeed incentive management can have an impact. Plus, nothing like stirring up a little of those competitive juices in a time of need.
---
---
#5 Opportunities to communicate the progress and value of your innovation program
Demonstrating the value of your team and your efforts is as important now as ever – maybe more so. There is a long list of possible metrics, measures, and values you need to communicate to busy and traveling executives. How are you doing that today? Static PowerPoint updates? Yuck! Sure it is easy to support that – and we do – but why not deliver interactive and actionable dashboards, scorecards, and KPIs on mobile devices or in your corporate innovation hub? And why not deliver them on the run to people's phones and tablets too? Modern software services like edison365 give you complete flexibility to report and interact with the things that matter most to your team.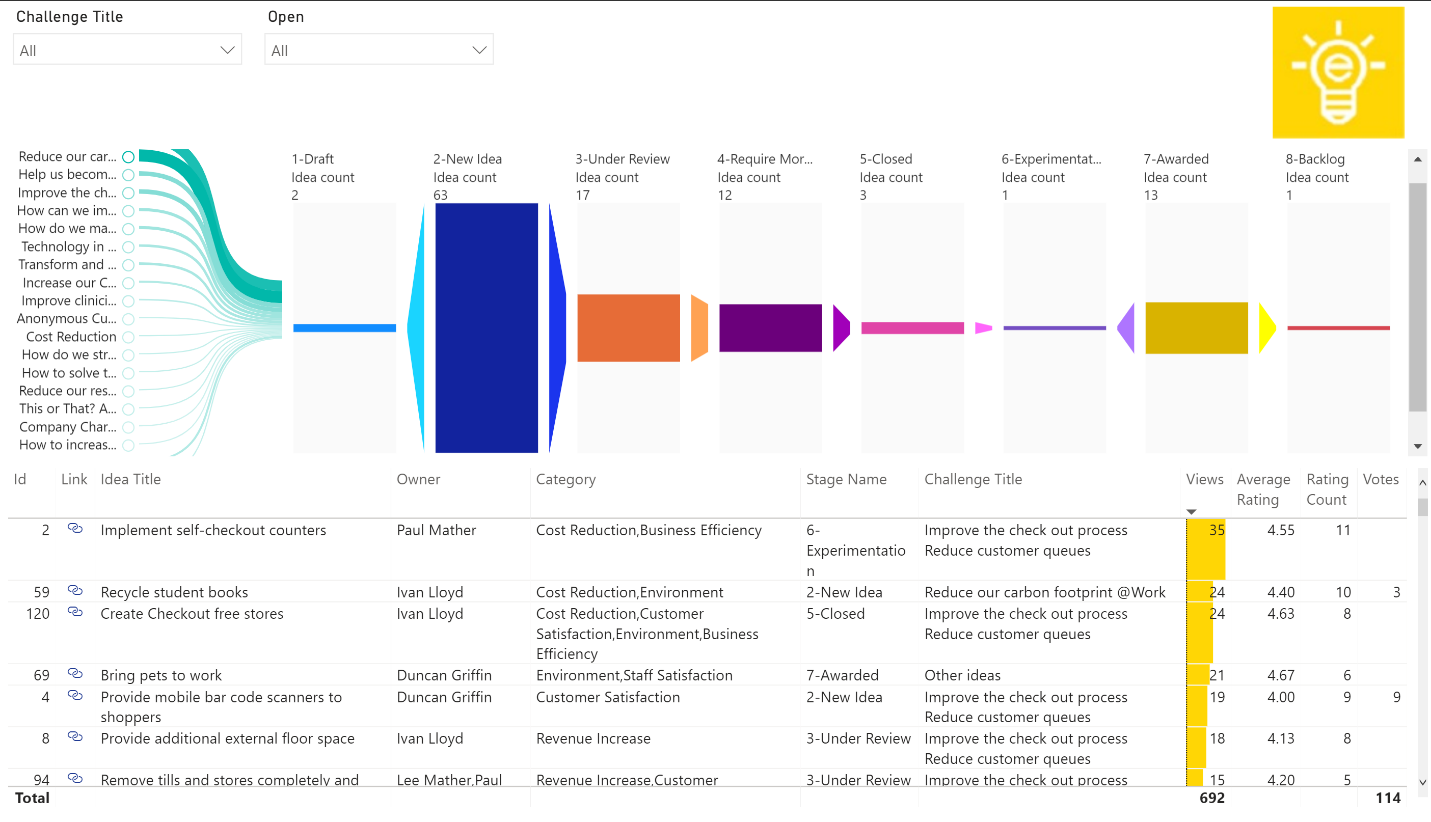 ---
---

---
#6 Host real-time virtual ideation sessions, hackathons, lean coffees, or whatever you call your workshops, using innovation software tools
OK, here is a sixth way innovation software tools can support your team and business goals in this new world of work. If your travel plans or budgets have been restricted, why not host an online event? You can do this through simple conference calls and the edison365 software service. Or you can simply set a timebox to your virtual challenge and send out the "go" email invitation. Or why not take advantage of the new collaboration platforms your company has invested in? Microsoft Teams and edison365 are better together. We just did this last week internally and it works great! Small teams or big crowds are supported.
So far, we have been talking about how modern technology solutions (edison365ideas) can support your new world of work – specifically around innovation – but we haven't touched on the platform itself. The edison365 software services are built for the cloud. More specifically, it is built for your Microsoft cloud. That means while we deliver the user experience and cool tools described above, everything is built on top of your Microsoft 365 world. That includes full security and access rights through Active Directory (etc.) and data storage in your Office 365 or Azure environment. Your innovations, your data. A demonstration is the best way to see this – especially with Teams, but if you want some examples of the value that edison365 delivers, preview our capabilities here.
Additionally, if your process and company are ready for more advanced functionality that helps you justify a specific innovation spend, or actually execute and deliver on the promised transformation, you can leverage edison365businesscase and edison365projects. Standalone or as an integrated suite, your choice.
So, why not host an online innovation event now? What have you got to lose? You know you need to be innovative – now more than ever. You know you have some critical business problems, some challenges to meet, and actions to take. What are your competitors doing? It is imperative that you get started now. As the popular Chinese proverb says:
"The best time to plant a tree was 20 years ago. The second-best time is now."